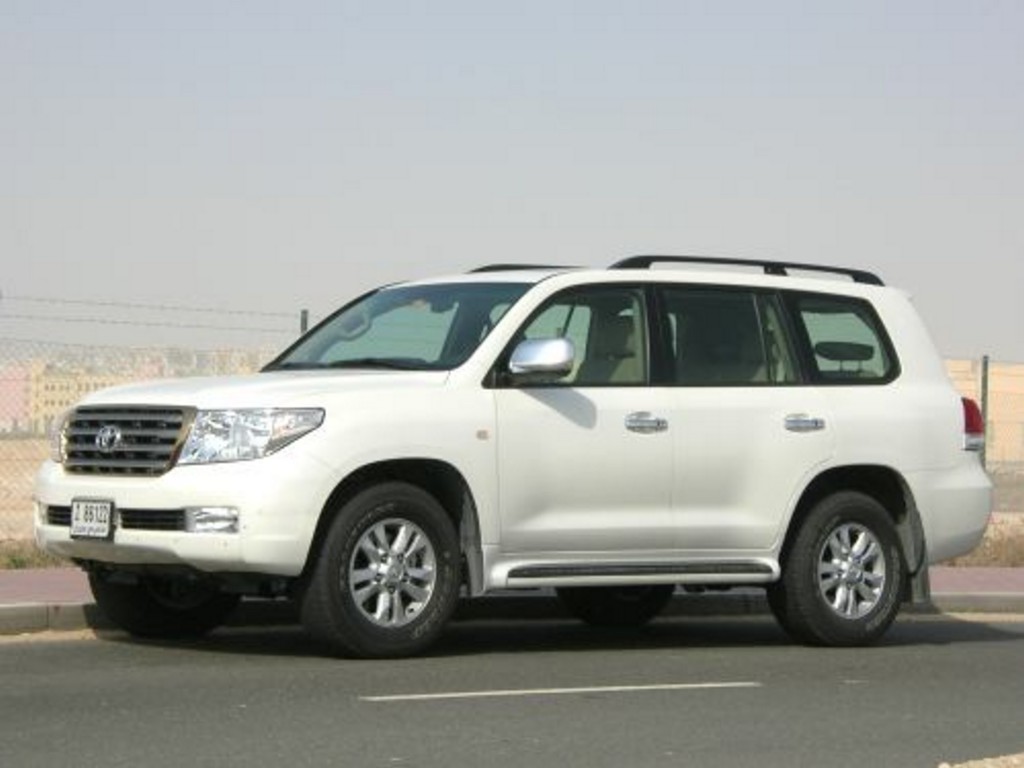 The 2008 Toyota Land Cruiser remains one of the most popular models among the SUV followers. It's not surprising as it takes the best attributes from several different types of vehicles and unites them to produce a comfortable, spacious, multi-purposes and highly capable SUV. Its' off road capabilities will impress you; its highway driving is comfortable and smooth. The vehicle is equipped with a powerful engine under the hood for sizable towing capacity.
The 2008 Land Cruiser is offered in a four door configuration. It's powered by a 5.7 liter engine V-8, that can produce 381 horsepower at 5600 rpm and 401 pound-feet at 3600 rpm on regular gas. The engine is paired with a six-speed automatic transmission, that works perfectly with it, downshifting quickly, and of course, there's a standard four-wheel drive.
The car exterior is imbued with a conqueror spirit and undoubtedly impressive: huge block headlamps; a monumental grille; underlined bumpers; muscular side walls due to cambered wheel arches. All done softly and smoothly: no sharp edges and only aerodynamic proportions, strictly outlined elements and smooth transitions.
The 2008 Land Cruiser offers an expansive interior that can be configured to accommodate up to eight passengers. The first two rows of seating are comfortable; the rearmost seats accommodate most adults. When the third row is vacant the adjustable second row provides you with expansive legroom. The instrument panel, dash and console are full with switches, gauges and displays, so you will need some time to figure out what they all do.
Standard safety features on the 2008 Toyota Land Cruiser are extensive, including electronic stability control, driver and front passenger knee bags, active traction control, driver and front passenger active front headrests, first- and second-row outboard thorax side airbags, three-row roll-sensing side curtain airbags, and multi terrain anti-lock braking.
The car is also filled with standard equipment: ABS; traction and stability control; aluminum wheels; keyless ignition; power windows, mirrors, and door locks; power tilting/telescoping steering wheel; cruise control; heated front seats; four-zone automatic air-conditioning; moonroof; two-speed transfer case; hill-start assist; crawl control; front, side, and side curtain airbags. You can also equip your 2008 Toyota Land Cruiser with any additional stuff according to your needs and preferences.
The 2008 Toyota Land Cruiser has established a good reputation for being a model that stands up to the toughest conditions. The power, a redesigned suspension, and attention to noise and vibration, make the 2008 model pleasant and responsive on-road, while the Crawl Control system allows it to be even more capable off-road. The car users love it for the comfortable passenger compartment, soft suspension, so you can drive and relax. Despite its powerful engine, you will not want to ride fast, but quietly to enjoy the process.
Specifications
| | |
| --- | --- |
| OVERVIEW | Column1 |
| Body Style | 4-door SUV |
| Construction | Steel body on frame |
| Accommodation | 8 passengers |
| POWERTRAIN | |
| Engine | 32-valve DOHC V-8 |
| Engine Type | Gas |
| Displacement | 5.7 liters (346 cu in) |
| Horsepower | 381 hp @ 5600 rpm |
| Torque | 401 lb-ft @ 3600 rpm |
| Transmission Type | 6-speed automatic |
| Drivetrain | 4-wheel drive |
| Performance | 8.2sec to 62mph, 130mph, 27.7mpg, 270g/km |
| Fuel economy (CTY/HWY) | 13/18mpg |
| Towing capacity | 8,500 lbs. |
| Dimensions (length/width/height in mm): | 4950/1865/1970 |
| Customers' rating | 4,5 out of 5 |