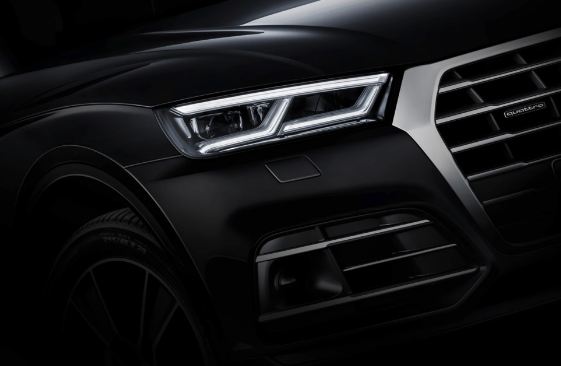 Updated crossover will hit the market with LED matrix headlamps. For some markets, they will be included in a standard set of equipment.
Audi in full swing is preparing for the world premiere of a new generation of mid-sized Q5 crossover. At this time, PR managers again have slightly opened the curtain and revealed the headlamp of the light head, the bonnet and the bumper, also was demonstrated volume of the luggage compartment.
Matrix head optics Audi Q5 didn't surprise. In network has already appeared video, where you can see all the possibilities of the lights.
Headlights are adaptive and regulate light intensity and the light beam depending on the traffic situation. That is, with this option, a driver of new Audi will not dazzle oncoming vehicles. This of course affects a traffic safety.
We all already know a format of teaser video of the new Audi Q5: first, the company offers us to choose between certain characteristics and / or properties. In the case of luggage space - usability, when it is possible to create everything you need for a great family outing, or "lightheadedness" for the "victims of shopping" (a characteristic of the company), which, however, also need a lot of space for shopping. The result - there is no need to choose anything, the new Audi Q5 is universal. Note that the lights of crossover still remained on the trunk lid.
Audi Will Launch Its Maybach On The Basis Of The Next Audi A8
World premiere of the new Audi Q5 will be held in a few days at the end of September in the framework of the Paris Motor Show. It is possible that all the details, including the official photos and videos will appear before that date. Earlier, the company has published a video of the car multimedia.