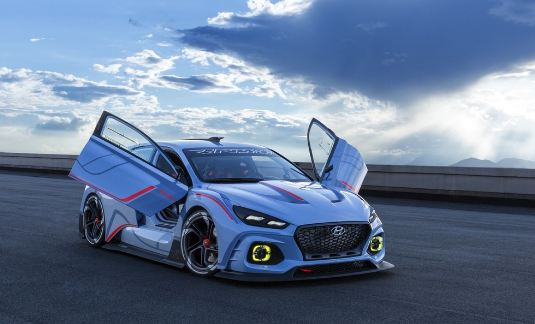 At the Paris Motor Show was presented 380-strong Korean Hyundai RN30 2017.
Most recently was released a teaser way RN30 concept based on the new-generation i30. Novelty is an aggressive body kit and a host of technical improvements.
The new hatchback has 19-inch alloy wheels and sports lowered suspension. Compared to serial i30 the new RN30 is in 30 mm wider and equipped with ceramic tailpipes of the exhaust system with electronically controlled system.
Under the hood of Hyundai RN30 is two-liter "turbo four" with 380 hp and 451 Nm of torque. Motor aggregates with robotized transmission with double clutch. Unlike civil hatchback with front-wheel drive, it was a sports version-wheel drive system with electronic limited slip differential.
To reduce weight engineers used carbon fiber reinforced plastic.
At the same time the exact weight of the car is unknown. Moreover Hyundai has teamed up with BASF to develop innovative plastics.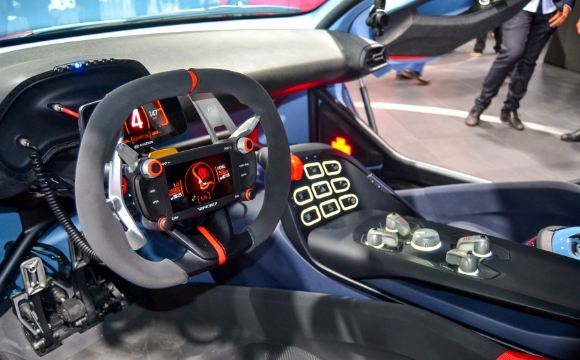 Although Hyundai RN30 is just a concept, Korean company plans to introduce a N-version of i30 in the beginning of next year. It will receive a front-wheel drive and six-speed mechanics, but companies are considering to release a version of the four-wheel drive with automatic transmission and packaging.
In Paris, Hyundai also showed a rally car based on the three-door i20 hatch for the 2017 WRC season.
Debut of racing car will be in January at the track in Monte Carlo. In accordance with the rules of the next year, a rally hatchback is equipped with a 380-horsepower engine capacity of 1.6 liters, as well as an active center differential with electronic control.
Recall that recently Hyundai announced for SEMA show a special version of crossover Santa Fe capacity of 1040 hp. We have already written about it. Updated Hyundai Grand Santa Fe – What Are The Prices?